Case Study
Streamlining Agriculture-Transport Data: The Weekly Grain Movement Initiative
CLIENT
Ag Transport Coalition
Introduction
The symbiotic relationship between Canada's agriculture sector and rail industry is pivotal for economic flow but often obscured by complex data sets. The Ag Transport Coalition routinely publishes intricate data critical for the industry, but not readily digestible for wider audiences. Burr Forest Group (BFG) stepped in to create "The Weekly Grain Movement," a regular infographic that demystifies these datasets, serving as a bridge between granular transport data and its stakeholders.
The Challenge
The Ag Transport Coalition's reports are dense and data-heavy, posing a significant challenge in information dissemination to those who need it most — farmers, commodity groups, and industry stakeholders. The challenge was twofold: to capture the essence of the detailed weekly reports and translate them into a visually appealing, concise format without sacrificing the depth and accuracy of the information.
The Burr Forest Group Approach
Data Synthesis
BFG initiated the process by engaging in an in-depth review of the coalition's weekly reports. Analysts worked to distill the core data, highlighting metrics vital to the agriculture industry.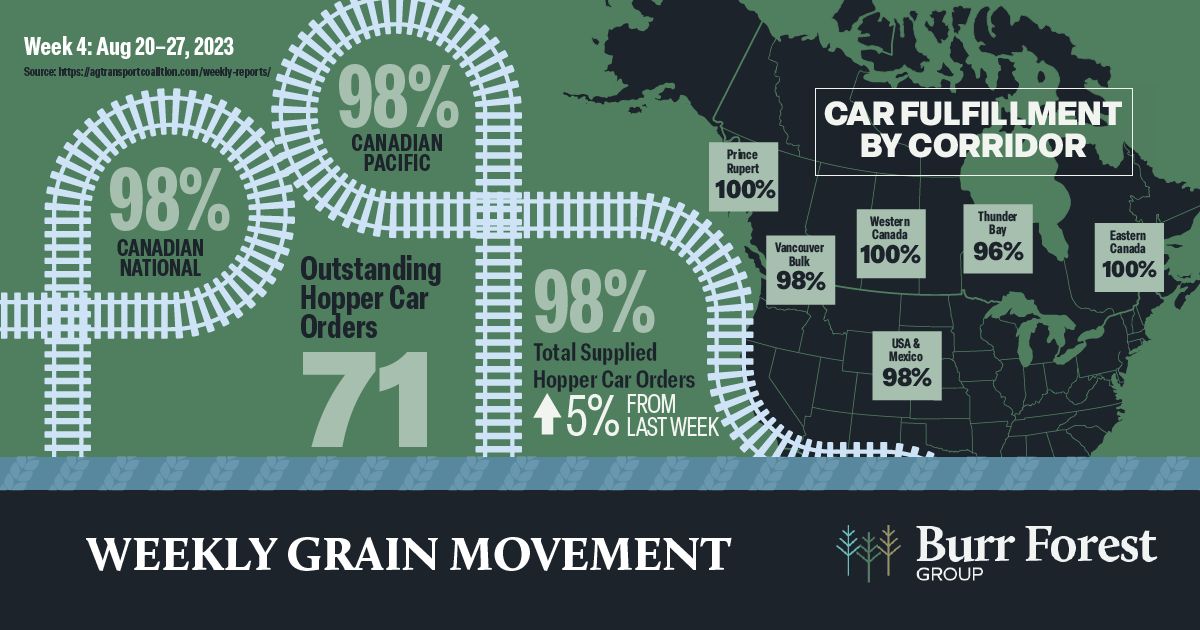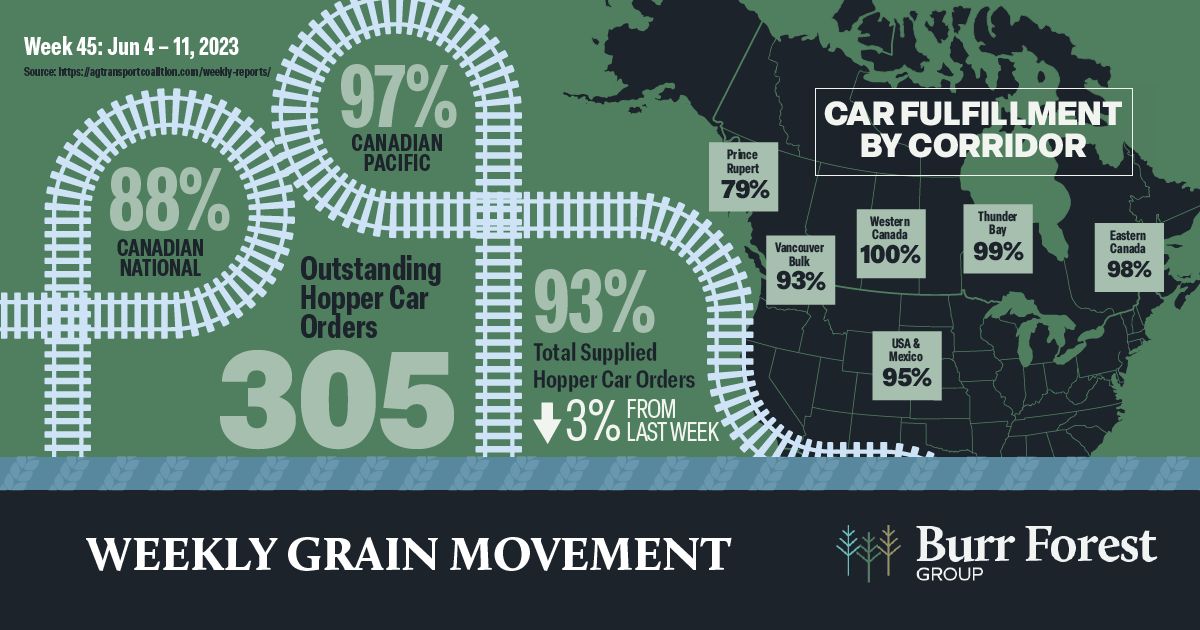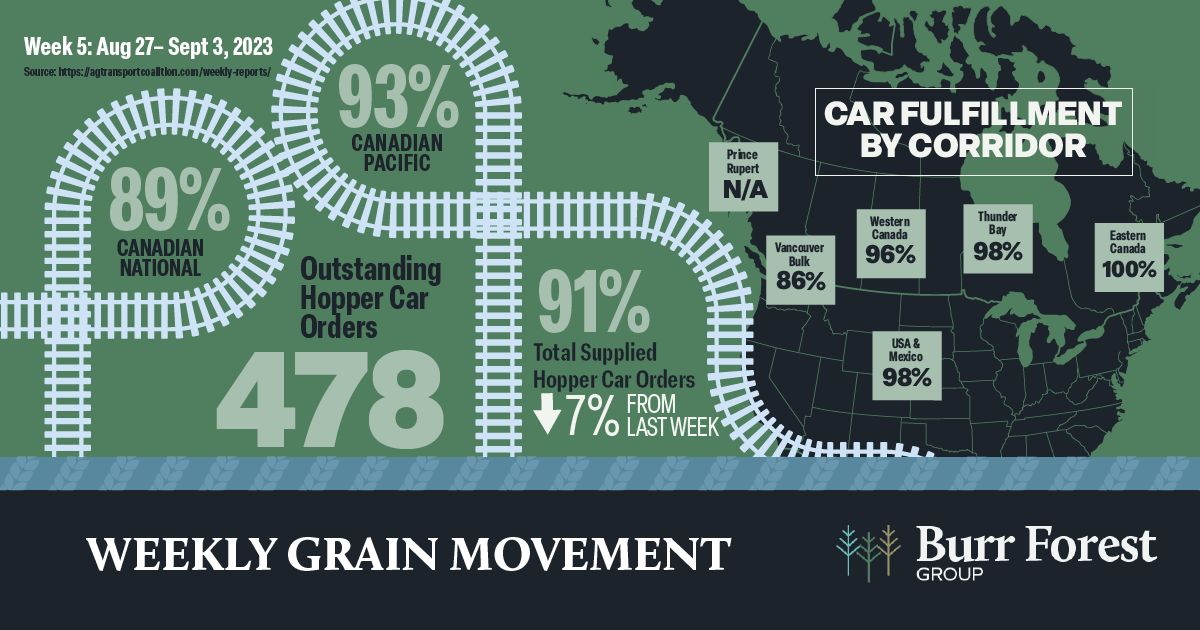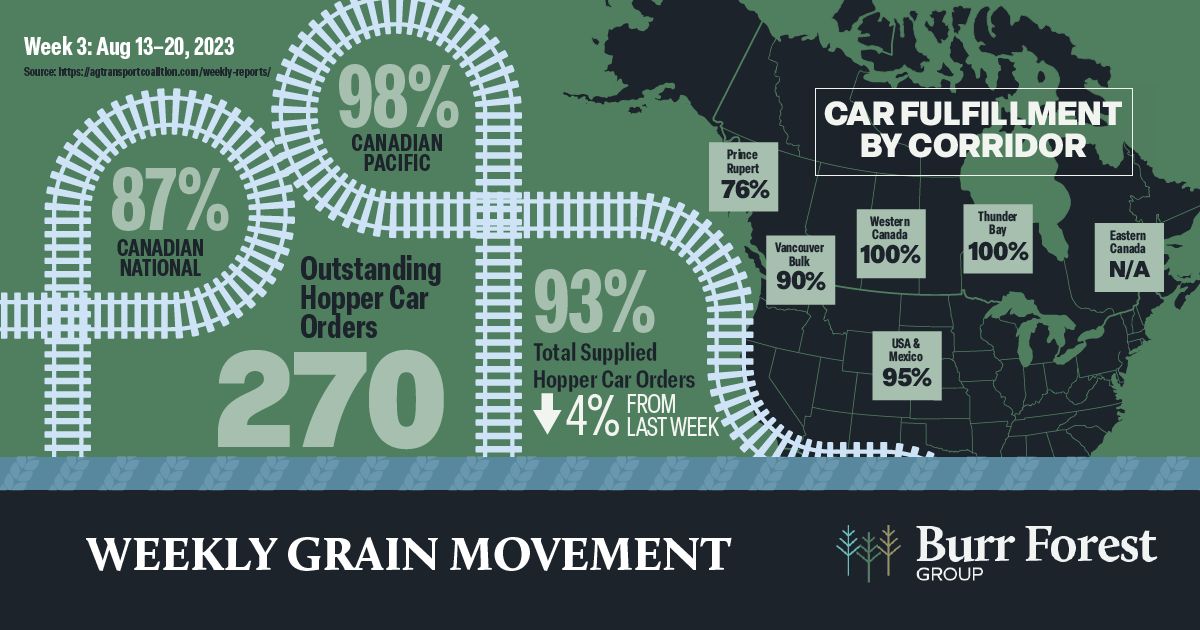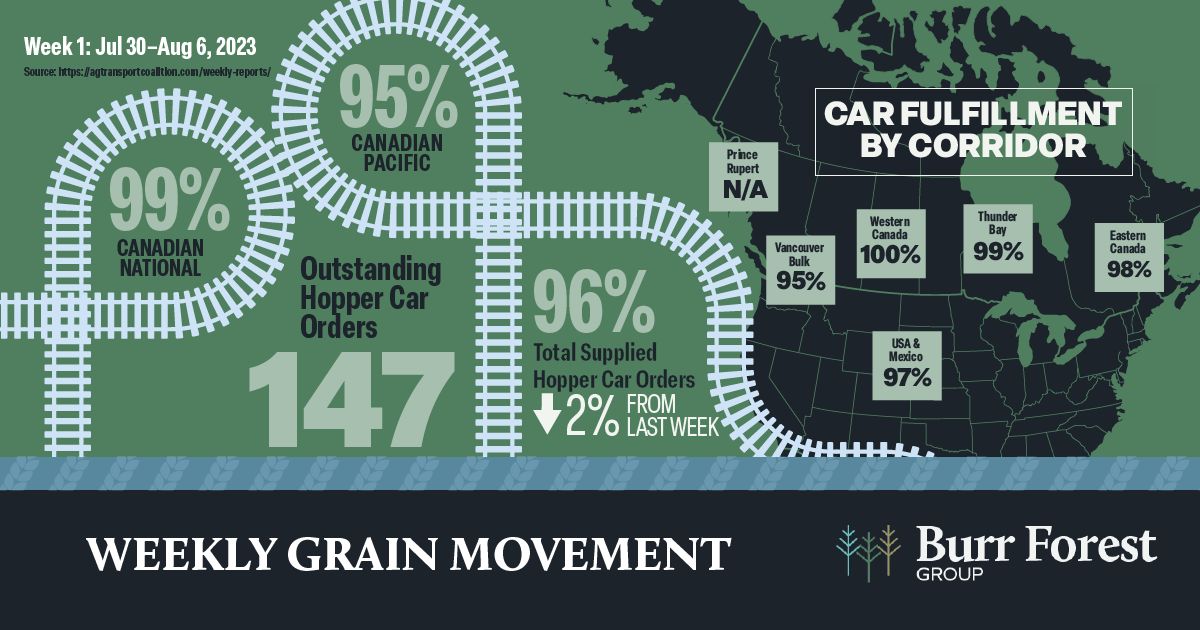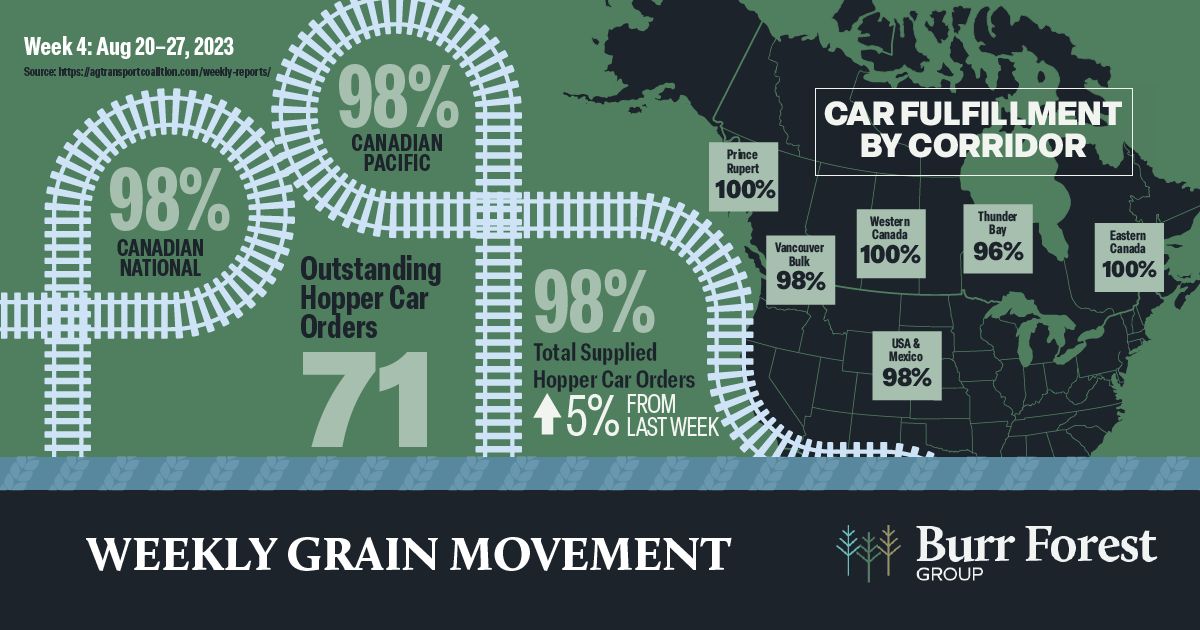 Design Innovation
Utilizing cutting-edge graphic design tools, BFG developed a series of infographics. The designs were focused on maximizing clarity and visual impact to ensure that key data points were communicated effectively.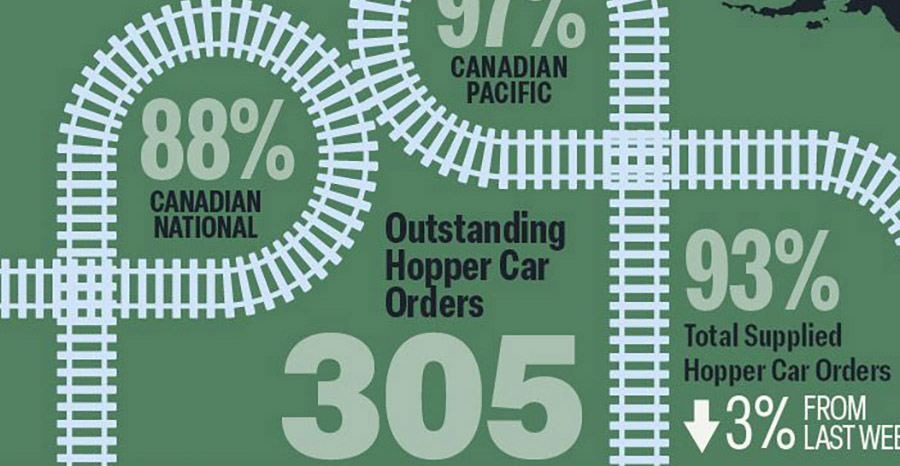 Stakeholder Engagement
Before finalizing the infographics, BFG consulted with primary stakeholders in the agriculture industry to ensure the designs met the end-user's needs.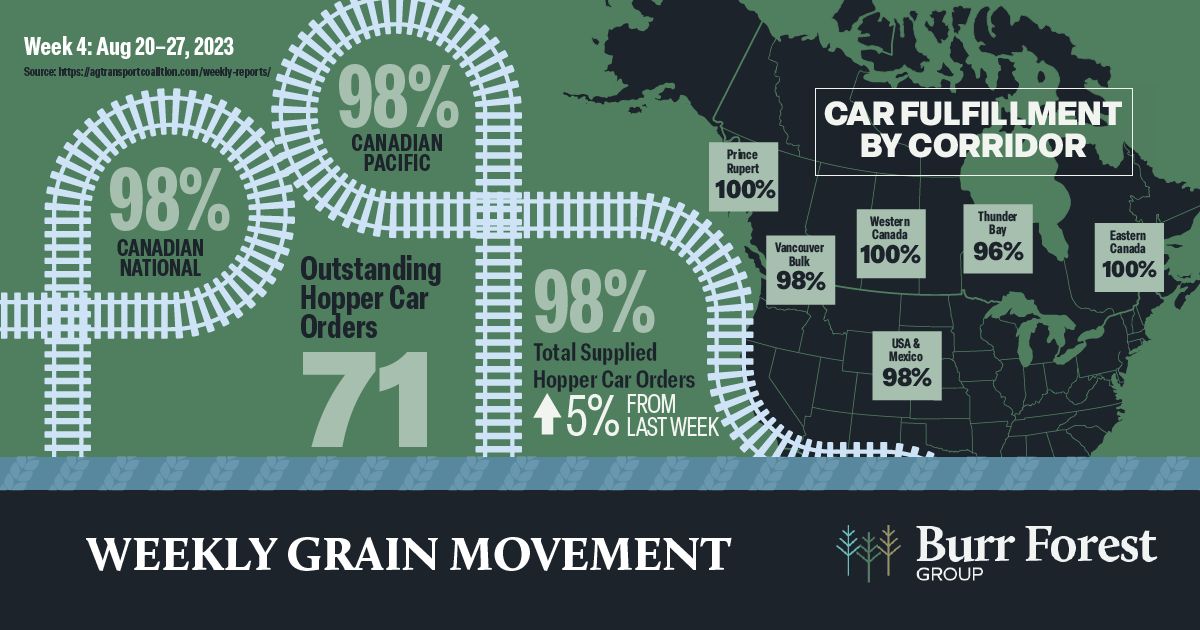 Social Media Strategy
Recognizing the power of social media for rapid and broad information dissemination, BFG tailored the infographics for optimal online sharing and engagement across various platforms.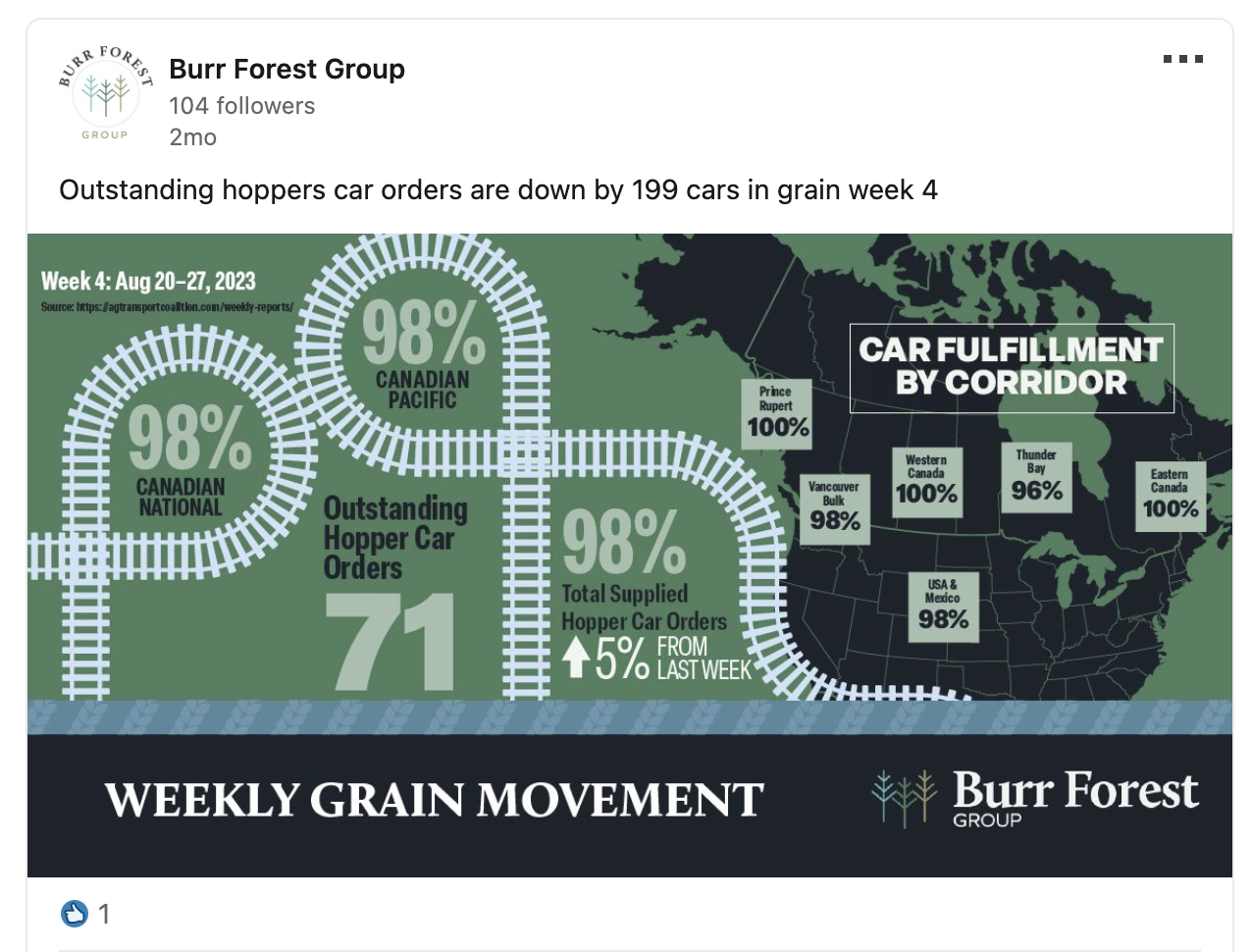 Results
The introduction of "The Weekly Grain Movement" infographics by BFG transformed the landscape of agricultural data communication. These infographics have been widely embraced by the industry, with reports of increased engagement on social media platforms. The clear, concise, and accessible format has empowered stakeholders with critical weekly updates in a digestible form, enhancing decision-making across the sector.
BFG's initiative has not only bolstered the information exchange between Canada's rail and agricultural industries but has also established BFG as a key player in the intersection of agricultural knowledge transfer and design. The project, provided as a free resource, reflects BFG's dedication to supporting the agriculture industry with innovative and practical solutions.